Anyone familiar with the world of soccer will know the name Borussia Dortmund, eight-time champions of the German league, as well as several notable UEFA and Intercontinental wins. BVB (as the club is known for short) has a 100-year-plus history and a devoted fanbase, enjoying the highest average attendance of any association football club in the world.
Now, TENWAYS is excited to announce an innovative partnership with the club! Formed around shared values on both sides, the collaboration will bring benefits to the club, players, and fans alike. Both we and BVB have a strong pedigree, coupled with the assurance to welcome and encourage change.
BVB is renowned as a cradle for young sporting talent, standing on its solid foundations to help develop players into well-rounded superstars. TENWAYS has a similarly strong base, having been founded by serious cycling enthusiasts with over 20 years of experience in bike development, and with the vision to become the go-to e-bike manufacturer. Both TENWAYS and BVB aim to be the very best in their chosen field!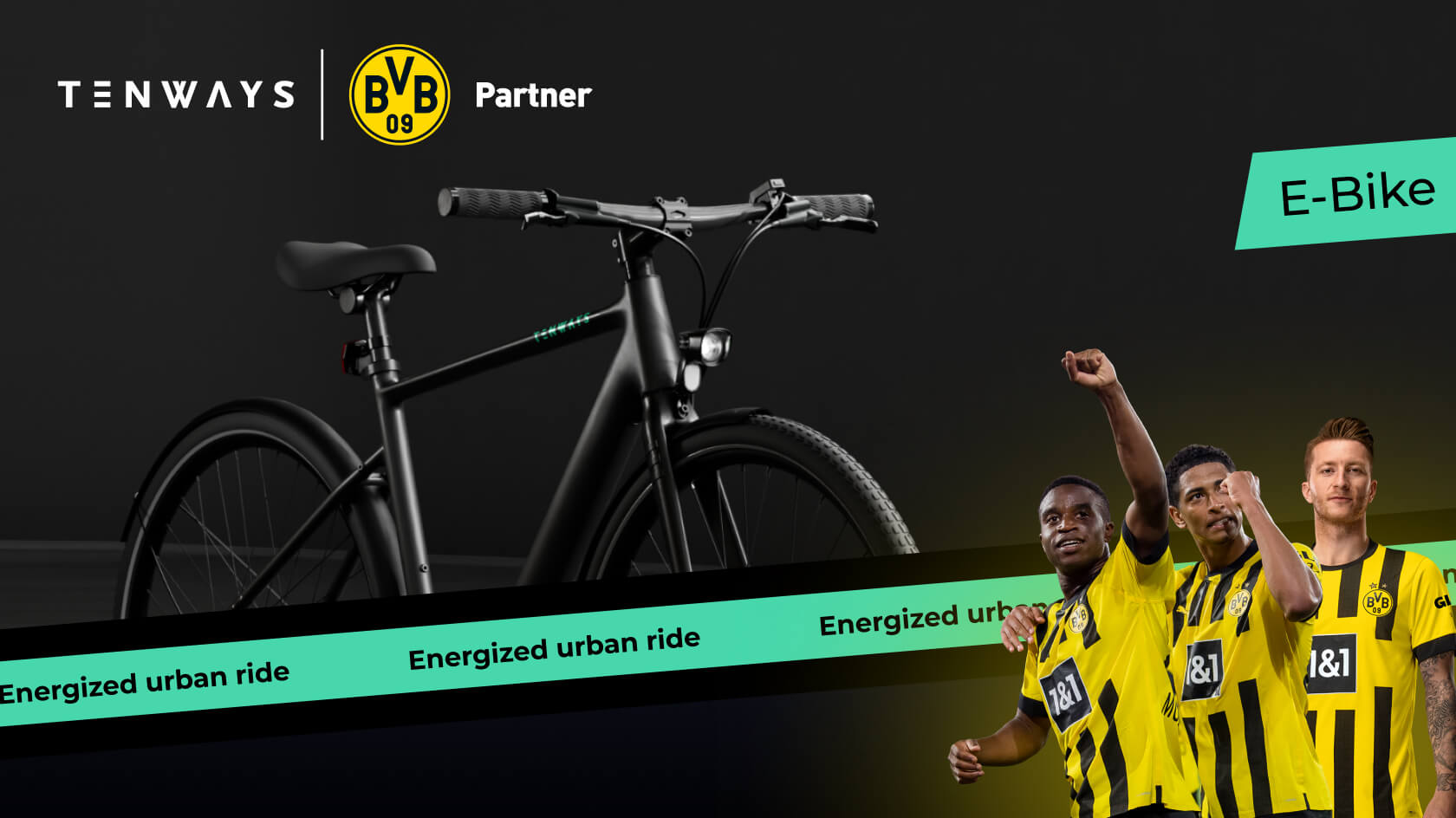 What can you expect in the partnership?
The collaboration between TENWAYS and BVB will see the club's players reaping the benefits of using our energy-saving, environmentally friendly e-bikes on the club's grounds and around the city of Dortmund. With this power-assisted transport boost, the players will be able to reserve effort when needed and unleash even more positive energy in the season's crucial games.
Beyond the players' e-bikes, TENWAYS' name will also adorn the perimeter advertising hoardings at home games – so all you BVB regulars, keep a look-out!
There will be fan benefits, too, as part of the partnership program. Exclusive offers will be provided for BVB supporters and Tenwayers alike.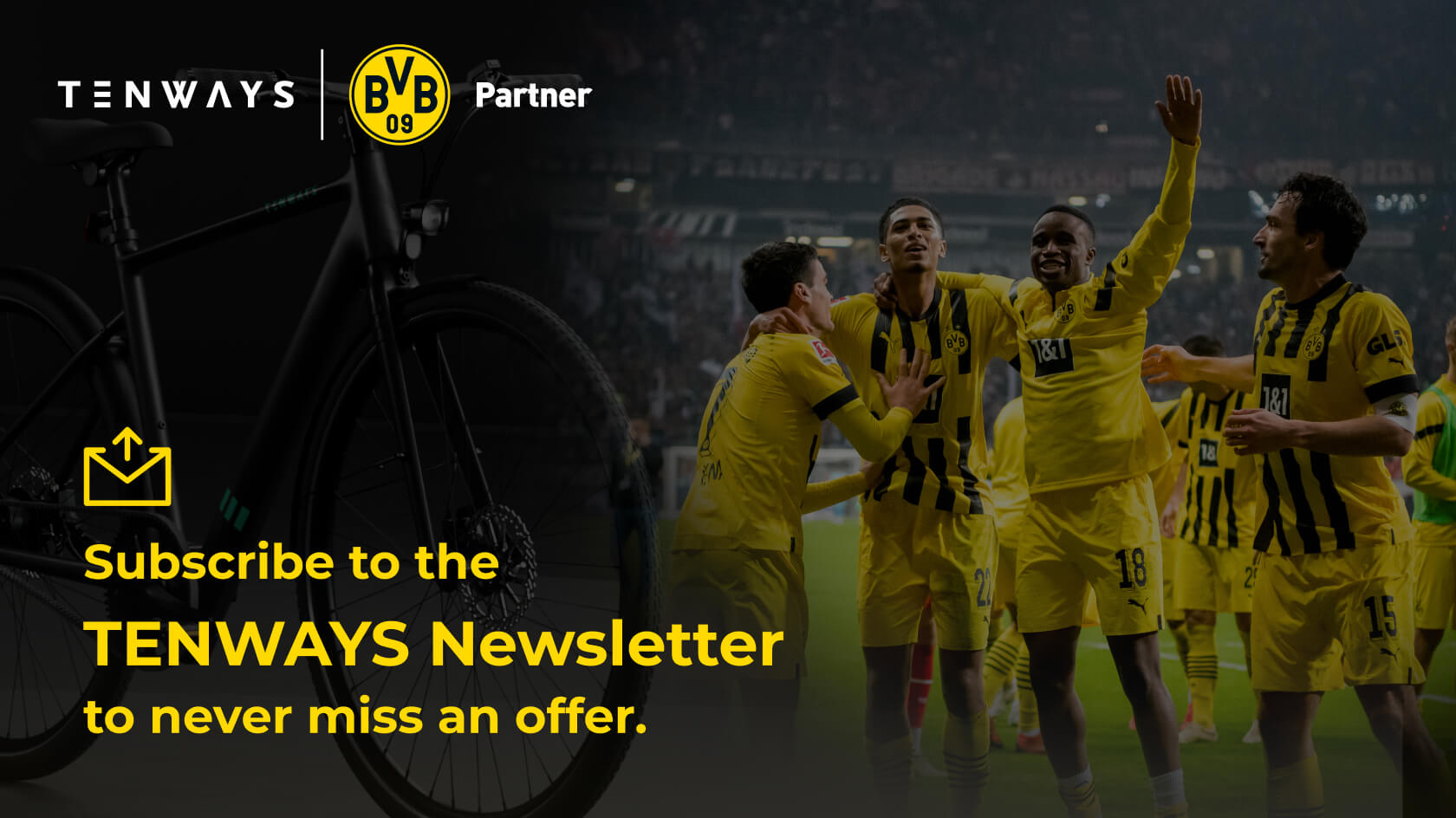 Excitement from the top
There's a great deal of enthusiasm both at TENWAYS and BVB about this creative collaboration. Amir Fazeli, General Manager of TENWAYS, said:
"BVB is more than just a soccer club. It has an enormous appeal. It stands for dynamism, emotionality, and cohesion. In its more than 100-year history, the club has constantly changed, yet it has always remained true to its principle: People are at the center. I was able to experience this myself during my visit to Signal Iduna Park. We were warmly welcomed and experienced an unforgettable day there.
At TENWAYS, the customer is also our focus! Everything we do and undertake is geared toward providing the customer with an unforgettable experience.
BVB's style of play is offensive, bold, and creative. That's exactly how we develop our products, we want to break new ground, always focusing on the needs of our customers."
Carsten Cramer, Managing Director of Borussia Dortmund, was keen to emphasize the positive aspects and green credentials of the partnership:
"We are delighted to welcome TENWAYS as a new partner and look forward to working closely together in the future. TENWAYS develops and produces high-quality e-bikes to make cycling an enjoyable and sustainable lifestyle. This fits in with Borussia Dortmund's ambition to strengthen sustainable mobility."
Get involved
As a new era begins for BVB and TENWAYS, there's no better time for you to take part! Sign up for the TENWAYS Newsletter, and be sure never to miss out on our best offers – you'll be the first to know!